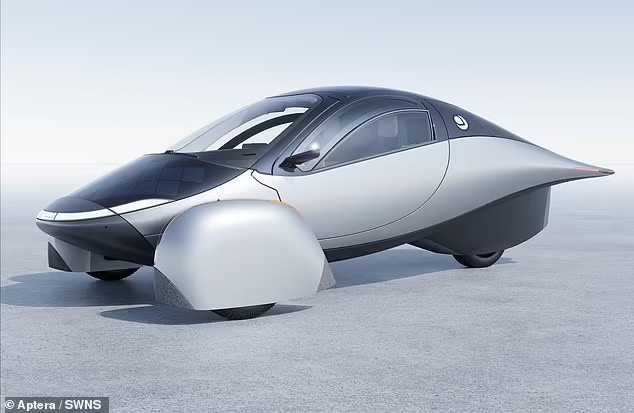 It claims that, in a particularly sunny location like Southern California, drivers may find they never have to charge their car.
The Aptera is made of six lightweight body components made from a combination of carbon fibres and fibreglass.
These fit together into a streamlined shape, reducing drag and maximising the car's efficiency.
It also means it uses just quarter of the energy of other electric and hybrid vehicles.
This is helped by the fact it only has three wheels, as this does away a potential loss of energy.
The Launch Edition has a 42 kWh battery pack giving it a total range of 400 miles (640 km), but this will be increased to 1,000 miles (1,600 km) in later versions – the longest range of any mass-produced vehicle.
If a driver does find that they need to charge, the Aptera can plug in to any standard power outlet, and will gain 13 miles (21 km) of range for every hour connected to a standard 110V charger.
It also comes with a 6.6 kW onboard charger, which can recover 57 miles (92 km) per hear.
Each of the car's three wheels are powered by an individual motor, giving it a total output of 128 kW (171 hp), top speed of 101 mph (162.5 kph) and the ability to reach 60 mph (100 kph) in just four seconds.
Spec:
Range: 400 miles (643 km)
Drive: All-wheel (3-wheel)
Time for 0-60 mph: 4 seconds
Top Speed: 101 mph (162.5 kph)
Seats: 2
Body material: Carbon fibres and fibreglass
Dimensions: 14.8 x 7.3 x 4.6 ft (4.55 x 2.23 x 1.4 m)
Wheelbase: 9.2 ft (2.82 m)
Solar charge per day: Up to 40 miles (64 km)
Battery pack: 42 kWh
110V charging speed: 13 miles (21 km) per hour
240V charging speed: 57 miles (92 km) per hour
DC fast charging speed: 400 – 600 miles (644- 966 miles) per hour