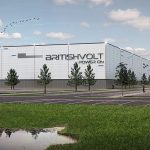 Britishvolt could be bought out of administration by Recharge Industries which is the Australian  subsidiary of the Californian fund Scale Facilitation Partners.
The administrators of Britishvolt – EY-Parthenon – said, earlier today, that Recharge Industries is its preferred bidder and that a deal could be compketed in the next seven days.
Scale Facilitation Partners describes itself: "We are not a private equity fund, nor are we a sovereign wealth fund, a hedge fund, or a typical venture capital fund. We are a hybrid fund focused on scaling technology and other innovations from domestic markets that don't have the size to scale or that have other barriers in place."
The company says it "connects inventors with large government and corporates who will see and realise significant benefit from the innovation."
Wikipedia describes Scale as "an early-stage venture capital firm that typically leads Series A or Series Brounds. Over the last 20 years, Scale has made over 380 investments in Cloud, SaaS and Infrastructurecompanies, with over 159 exits, including IPOs for companies like Bill.com, Box, DocuSign, HubSpot, RingCentral, Root Insurance, and WalkMe.
The company has assets worth $1.9 billion.