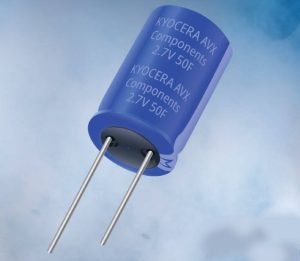 To be found in the company's SCC series, there are four capacitors (diameter x length):
35F 3V SCCU30E356SRBQ (16  x 30mm)
50F 3V SCCV40E506SRBQ (18 x 40mm )
100F 2.7V SCCV60B107SRBQ (18 x 60mm)
100F 3V SCCV60E107SRBQ (18 x 60mm)
where the final Q indicates AEC-Q200 qualification
"They can be used alone, or in conjunction with primary or secondary batteries, to extend back-up times and battery life and leverage instantaneous pulse power, according to the company. "Ideal applications include electronic mechanical latching, emergency calling, electronic recording, regenerative braking, power and back-up power systems."
Operation is across -40 to +65°C, but as high as +85°C if operated at a lower voltage – for example 2.5V in the 3V 50F SCCV40E506SRBQ, according to its data sheet.
Taking that same part, it can handle 37.5A and store up to 62.2mWh, equating to 4.8Wh/kg, and deliver 4.1kW/kg.
PCB attach is through hand or wave soldering, carefully in both cases – restrictions are listed in the data sheet.
"We introduced the first SCC Series supercapacitors in October 2016 and we're very excited to offer solutions with those same characteristics to our automotive customers," said Kyocera product manager Mamoon Abedraboh.
The parts comply with UL 810A, RoHS and REACH requirements.
Automotive SCC series super caps can be found on this product page, and the 3V 50F SCCV40E506SRBQ data sheet is here